Now, you can receive income from YouTube using a tariff that is convenient for you, which you can set up directly in your Studio account.

Types of tariffs:
+ Flexible payments. This is a new name for the usual credit accrual system with a new withdrawal percentage of 5.9%. This tariff is automatically set up in your account.
+ Daily payouts. This tariff automatically transfers all daily credits to funds with a classic commission of 2.9%.
Thus, when choosing a tariff Daily payouts only the section Funds will be replenished. With the Flexible Payments tariff, the section Credits will be replenished.
You can activate only 1 tariff, but you can change it at any time. The tariff setup is available only to the main owner of the channel/account in the Studio section "Payment settings".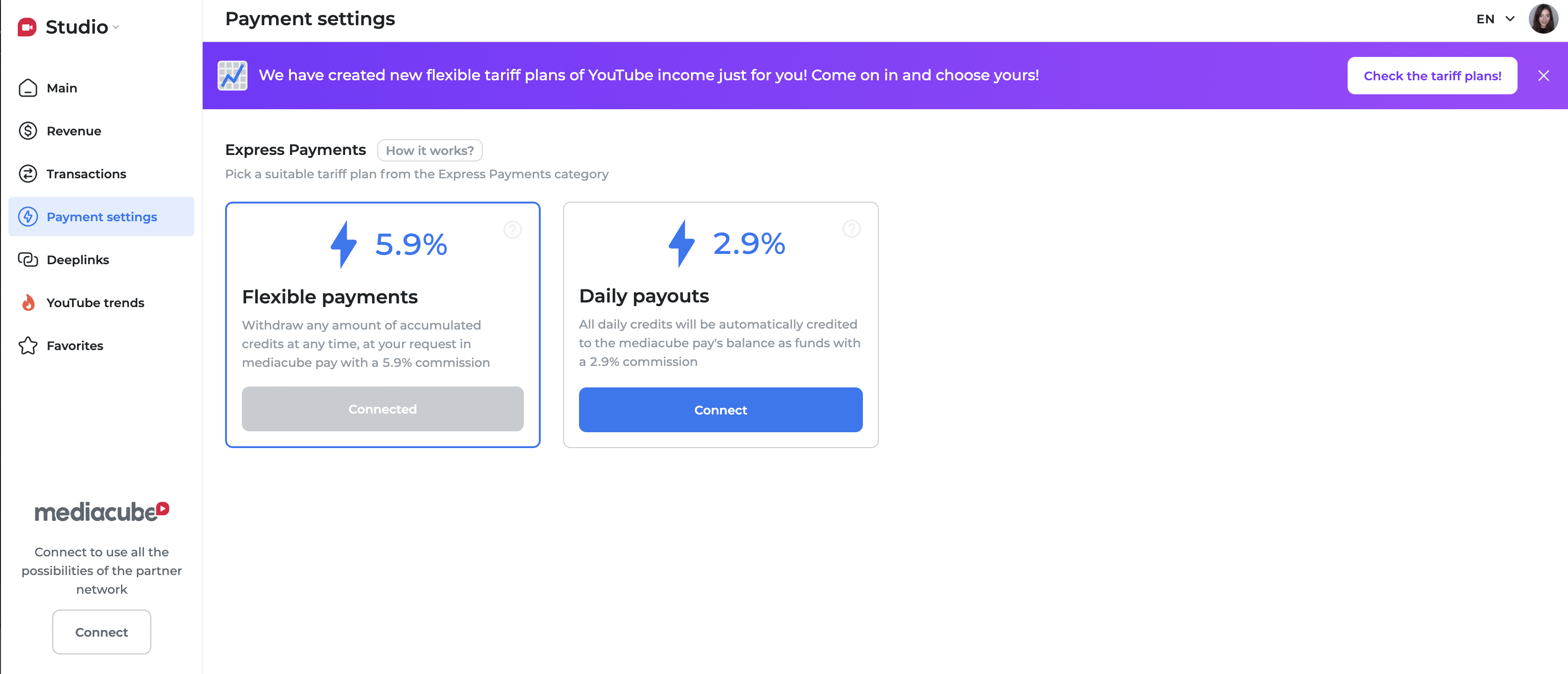 With the new tariffs, transactions with new names will also be introduced (e.g. "Commission of the Daily payouts tariff").


Now, we will answer some questions that may concern you.
+ Why has the percentage of classic express payouts, 2.9%, increased?
Specifically for our partners, we have created a new and flexible structure for generating income from YouTube with different tariffs, in which you can customize income generation to suit your personal needs. Classic commission of express payments of 2.9% remains and becomes the basis of the Daily payouts tariff, so you can still use the old percentage.

+ How often can I switch the tariff?
Tariffs can be switched even every day. The only condition: Flexible payments and Daily payouts cannot be enabled at the same time.
+ Can I not use these tariffs at all?
The most "non-committal" tariff is Flexible payments, with which you can withdraw credits at 5.9%. Credits accumulate daily, and you can withdraw them or choose not to. If you don't withdraw, then at the end of the month they will be transferred to funds automatically without additional commission. But, it's better to be able to use the funds at any time.
+ Can I choose different rates for different channels?
No, due to the fact that the tariffs connect to the shared Mediacube Pay wallet. It connects to your account, and its settings are automatically applied to all connected channels where you are the main owner.