vidwide is an all-in-one solution for video distribution.
Service for full-cycle Youtube channels' distribution and monetization from contract signing to uploading on various video platforms.
vidwide offers content creators to sign the license contract, link their Youtube channels and track and monitor revenue share broken down by video platforms.
The service is integrated with the user's Mediacube Pay account that enables creators to easily manage and withdraw generated income in any convenient way.
Registration
Once content distribution conditions discussed you'll receive the link to register into vidwide and sign a license agreement.
! To be successfully onboarded you should be the main owner of the Youtube channel mentioned in the license agreement.
Registration steps:
Follow the link provided by mediacube team.

Log into your Mediacube Pay  account

Give vidwide access to your Mediacube Pay data

Accept the vidwide Terms

Accept the License Agreement terms
Hooray! You're all set!
In your account you may find the following info:
Agreement status – active, on review, completed

Distribution platforms – one platform or all platforms (all platforms Agreement means that the content will be uploaded on the all relevant platforms)

Channel share

Agreement start date
Agreement updates history can be accessed via "More info" button, here you'll see the details on revenue share changes and agreement's termination, if applicable.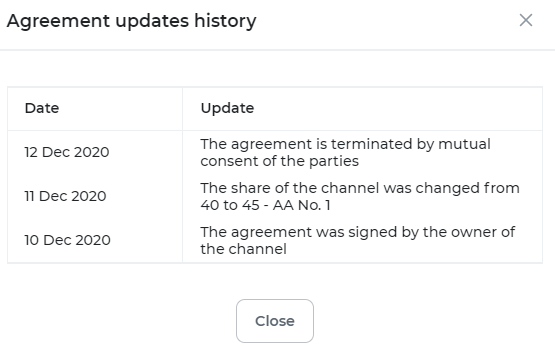 Also, you can download the Agreement along with its annexes and termination.
After acceptance of the service & the License Agreement Terms we will upload your content on the corresponding platform.